XM 1/4 Moon Knight - Sold out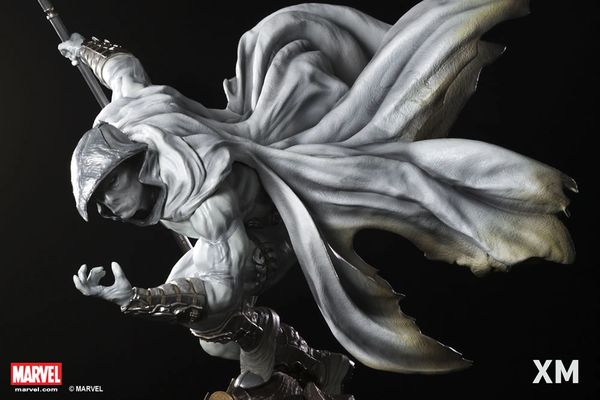 XM 1/4 Moon Knight - Sold out
"I AM MOON KNIGHT. THE BEARER OF THE MANTLE OF KHONSHU. KHONSHU THE JUSTICE BRINGER. I AM VENGEANCE."
XM Studios is excited to present our next Marvel Premium Collectibles series statue, Moon Knight! The justice knight of vengeance is immortalized in amazingly detailed 1:4 scale cold-cast porcelain. Each painstakingly handcrafted statue is individually hand-painted with the highest possible quality finish. Sculpted by Caleb Nefzen, this highly detailed 1:4 scale statue of Moon Knight has several display options showing off his weaponry and resolve to take down his targets. Sinners beware!
Background:
Moon Knight, Marc Spector, Steven Grant and Jake Lockley: four different aspects of the same man who was resurrected by Khonshu, the Egyptian Lunar-God of Vengeance and Justice to serve as his "avatar". Those unjust mortals who prey upon the innocents who travel at night, with powers that come from the moon, beware the Vengeance of the Moon Knight!

The Moon Knight Premium Collectibles statue features:
Two (2) interchangeable Portraits for alternate display

Two (2) interchangeable Left Arms for alternate display

Two (2) interchangeable Right Arms for alternate display

Three (3) weapons 
Crafted from cold-cast porcelain 

Limited edition : MTO
Artists:
Studio HIVE (Illustrator, Design and Concept Collaboration with XM Studios)

Caleb Nefzen (Sculpt)

XM Studios Design and Development Team

Manufactured by: 
XM Studios
Note: Prototype shown and pending final approval, final product may differ
Product size : 55.5 cm  H X 45 cm L X 50 cm B
Est. Box Size : 45 cm H X 70.6 cm L X 69 cm B 
Est. Product Weight : 7.2 Kg
Est. shipping weight : 16.2 kg
Deposit 1600HKD