XM 1/4 Scorpion - Sold Out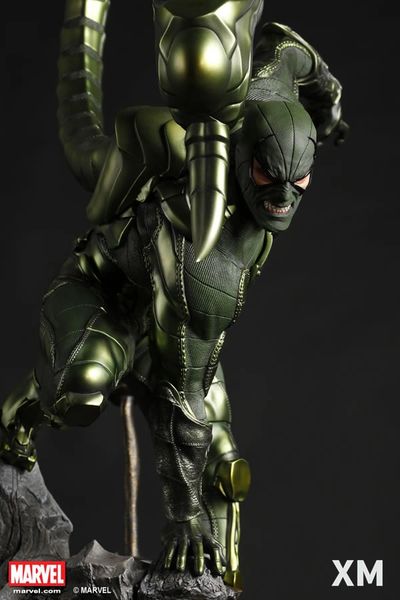 XM 1/4 Scorpion - Sold Out
XM Studios is excited to present our next Marvel Premium Collectibles series statue, Scorpion! The aggressive villain and member of the Sinister Six is immortalized in amazingly detailed 1:4 scale cold-cast porcelain. Each painstakingly handcrafted statue is individually hand-painted with the highest possible quality finish. Complete your Sinister Six 1/4 scale collection with Scorpion! 
Background:
Former private investigator Mac Gargan was hired by J. Jonah Jameson to find out how Peter Parker is able to get incredible pictures of Spider-Man. Gargan's efforts to locate Peter in order to find out the truth triggered Parkers's spider sense, making him easily avoidable.
Frustrated, Jameson decided to pay $10,000 to Gargan as the subject of an experiment. An experiment created by Dr. Farley Stillwell, a researcher in animal mutation which endowed the subject with the characteristic of another animal. Unfortunately the process resulted in the loss of Gargan's sanity, and the creation of the super-powered criminal menace known as the Scorpion.
The Scorpion Premium Collectibles statue features:
Armored interchangeable head for alternate display

Armored Tail switch out

Armor Plates - Chest x 1, Tights x 2 (Left and Right)

Forecarm X 2 (Left and Right)
Crafted from cold-cast porcelain 

Limited edition : MTO
Artists:
Studio HIVE (Illustrator, Design and Concept Collaboration with XM Studios)

Caleb Nefzen (Sculpt)

XM Studios Design and Development Team

Manufactured by: 
XM Studios
Note: Prototype shown and pending final approval, final product may differ
Product size : 33 cm  L X 43 cm B X 70 cm H
Est. Box Size : 63 cm L X 61 cm B X 42.5 cm H
Est. Product Weight : 9.1kg
Est. shipping weight : 19.97kg
MTO Product.