XM 1/4 White Queen - Sold out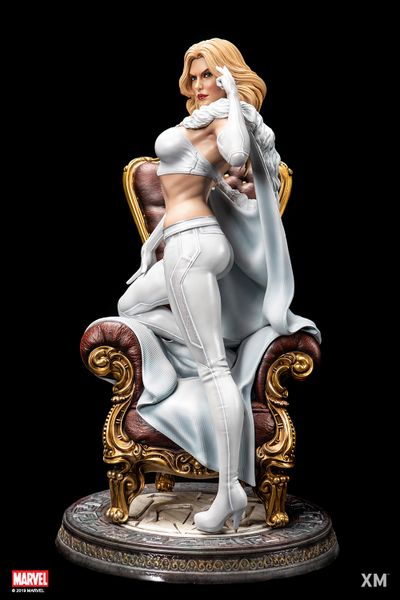 XM 1/4 White Queen - Sold out
XM Studios is excited to present our next Marvel Premium Collectibles series statue, Emma Frost! One of the most powerful telepaths in the Marvel Universe, the White Queen is immortalized in amazingly detailed 1:4 scale cold-cast porcelain. Each painstakingly handcrafted statue is individually hand-painted with the highest possible quality finish. A must have to any X-Men fan, add this amazing new piece to your collection today!
Background:
Emma Frost - Emma Frost was born into a wealthy old Boston mercantile family that arrived from England in the 1600s... Unknown to their family or themselves, the three Frost sisters were mutants whose telepathic abilities matured upon reaching puberty...… read more at https://www.marvel.com/characters/emma-frost
The Emma Frost Premium Collectibles statue features:
Two (2) Headsculpt - 1 long haired portrait and 1 short haired portrait with ice-blue make-up

Two (2) Right Arm - 1 right arm holding a white rose and 1 right arm features her fingers poised near her temple as she concentrates on her psionic powers

Crafted from cold-cast porcelain 

Limited edition : MTO

Art print by Carlos Dattoli 
Artists:
Studio HIVE (Illustrator, Design and Concept Collaboration with XM Studios)

Jon Troy Nickel, Philip Herman (Sculpt)

XM Studios Design and Development Team

Manufactured by: 
XM Studios
Note: Prototype shown and pending final approval, final product may differ. Batteries will not be included for any XM products with lighting features due to shipping and customs restrictions.
Product size : 28 cm  L X 36 cm B X 50 cm H 
Est. Box Size : 61 cm L X 53 cm B X 40 cm H
Est. Product Weight : 10 Kg
Est. shipping weight : 19 kg
 Deposit 2400HKD
Free shipping for HK customers.