XM 1/6 JLA vs Darkseid Ver A (Colour) - Sold out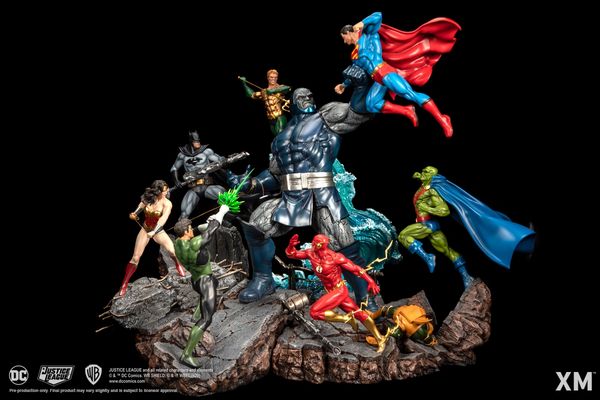 XM 1/6 JLA vs Darkseid Ver A (Colour) - Sold out
XM Studios is excited to present our 1:6 DC EPIC DIORAMA series, Justice League VS Darkseid! An epic battle scene diorama all DC fans should have in their collection, Justice League comprising of Superman, Wonder Woman, Batman, The Flash, Aquaman, Green Lantern and Martian Manhunter engages in battle with one of Justice League's main adversary and one of the most powerful being in the DC Multiverse, Darkseid.
 
Justice League VS Darkseid comes in 2 Art museum worthy paint application:
Ver A - Full Coloured (Limited to 338 pieces produced
 Ver A - coloured version allows collectors to appreciate the heroes in their brightest glory, their colors and details brought to life, with Darkseid in the middle of the battle, surrounded and cornered by our heroes. Immortalised in amazingly detailed 1:6 scale cold-cast porcelain, each painstakingly handcrafted statue is individually hand-painted with the XM quality finish.
Justice League VS Darkseid Premium Collectible Ver A (Colour) statue features:
An epic battle set near a sea harbour, the 7 members of the Justice League work together to fight against Darkseid.
A total of 8 fully sculpted detailed characters in 1:6 scale 
Crafted in cold cast porcelain.
Each painstakingly handcrafted statue is individually hand-painted with the highest possible quality finish
Limited edition: 338 worldwide
 
Artists:
HIVE Studios, Joycelyn Ong (Concept)
All-stars sculpt team featuring:
Paul Tan, Philip Herman, Victor Hugo Sousa, Caio Cesar, Marthin Agusta, Tiago Oliveira, Alejandro Perreira
XM Studios Design and Development Team

Manufactured by: 
XM Studios
Note: Prototype shown and pending final approval, final product may differ. Batteries will not be included for products with light up features due to customs.
Product and Box Dimensions
Box A
Est Box Size: 102 cm L x 62 cm B x 42 cm H
Est Box Weight: 32kg
Box B
Est Box Size: 92 cm L x 57 cm B x 27 cm H
Est Box Weight: 33kg
Box C
Est Box Size: 82 cm L x 76 cm B x 43 cm H
Est Box Weight: 40kg
Product Specifications
Est Product Size: 105 cm L x 85 cm B x 78 cm H
Est Product Weight: 53kg
Deposit: 6000HKD. Free shipping for HK customers.