XM Alien Hive-Warrior w/Plaque (Pre Order) <Procurement Service> ES Max 499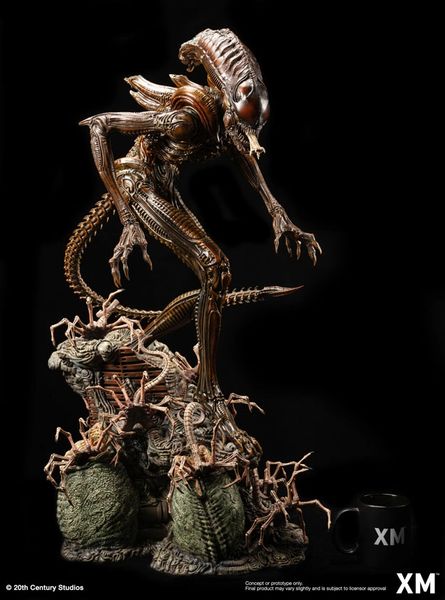 XM Alien Hive-Warrior w/Plaque (Pre Order) <Procurement Service> ES Max 499
XM Studios is excited to present Alien Hive-Warrior! An original take on the Xenomorph, XM worked closely with Simon lee aka Spiderzero (world-renowned sculptor, concept designer and character artist) to co-create the concept design of Alien Hive-Warrior. Drawing inspiration from the original creation, this Alien concept brings to life the dark elegance, biomechanical flow and visceral quality of the Xenomorph.
The Alien Hive-Warrior emerges from the Hive, enveloped at the base by a pulsing hive entrance pregnant with various stages of the Xenomorph lifecycle - Eggs in stages of ripeness, freshly hatched Facehuggers crawling with single minded focus. It moves steady and silent, displaying an alien flow and dynamism to its movement.
Pre-Order Opens: 30 Jan 2021, 6pm (UTC+8)
Pre-Order before 13 Feb 2021, 12noon SGT (UTC+8) to receive a collectible Display Plaque of the featured character as your early bird pre-order gift!
Description:
The Alien (also known as Xenomorph or Internecivus raptus is a fictional endoparasitoid extra-terrestrial species that is the eponymous antagonist of the Alien film series.
 
Alien Hive-Warrior Premium Collectibles statue features:
2 portrait switch-outs: 1 featuring the transparent dome-shaped skull and 1 featuring a ridged/textured skull
Paint application allows eggs to glow faintly in the dark
Crafted in cold cast porcelain.
Each handcrafted statue is individually hand-painted with high-quality finish
ES: MTO (MAX 499)
 
Artists:
Simon Lee (Spiderzero) (Concept Sculpt)
Amilcar Fong (2D illustration and 3D sculpt) 
XM Studios Design and Development Team

Manufactured by: 
XM Studios
Note: Prototype shown and pending final approval, final product may differ. Batteries will not be included for products with light up features due to customs.
Product and Box Dimensions
​
Est. Product size (LxBxHt): 37*37*78cm
Est. Product Weight : 20 kg 

Est. Box Size (LxBxHt) and Shipping Weight: 
Box A: 69*66*45.5cm, 24kg
Box B: 48*40*40.5cm, 17kg
Deposit : 3000HKD
Free shipping for HK customers