XM Alien Hive-Warrior Black Variant w/Plaque (Pre Order) <Procurement Service> ES Max 499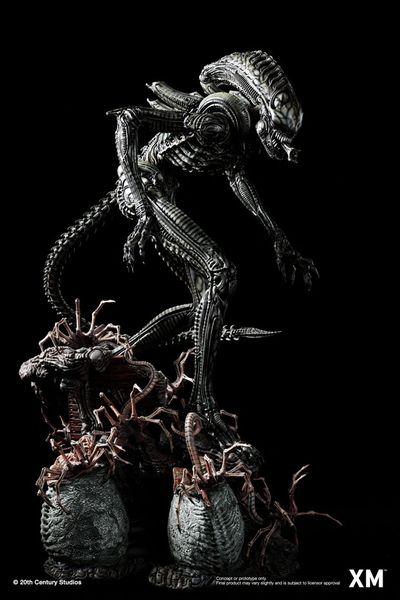 XM Alien Hive-Warrior Black Variant w/Plaque (Pre Order) <Procurement Service> ES Max 499
Pre-order opens 25 Jun 2021, 6pm (UTC+8).
Pre-order before 9 July 2021, 12pm SGT (UTC+8) to receive a collectible Display Plaque of Alien Hive-Warrior as your early bird pre-order gift!

Alien Hive Warrior comes in two versions: Brown Variant and Black Variant.
This is the Black Variant. Click Here for the Brown Variant.

XM Studios is excited to present Alien Hive-Warrior! An original take on the Xenomorph, XM worked closely with Simon lee aka Spiderzero (world-renowned sculptor, concept designer and character artist) to co-create the concept design of Alien Hive-Warrior. Drawing inspiration from the original creation, this Alien concept brings to life the dark elegance, biomechanical flow and visceral quality of the Xenomorph. Amilcar Aldana Fong, (illustrator, concept artist and sculptor who worked on the Court of the dead line) sculpted it to live.

The Alien Hive-Warrior emerges from the Hive, enveloped at the base by a pulsing hive entrance pregnant with various stages of the Xenomorph lifecycle - Eggs in stages of ripeness, freshly hatched Facehuggers crawling with single minded focus. It moves steady and silent, displaying an alien flow and dynamism to its movement.

Features:
2 portrait switch-outs: 1 featuring the transparent dome-shaped skull and 1 featuring a ridged/textured skull.
Paint application allows eggs to glow faintly in the dark
Crafted in cold cast porcelain.
Each handcrafted statue is individually hand-painted with the high quality finish.
ES: MTO Max 399
 
Artists Involved:
Simon Lee aka Spiderzero (Concept Sculpt)
Amilcar Fong (2D illustration and 3D sculpt)
XM Studios Design and Development Team

Manufactured by: 
XM Studios
Note: Prototype shown and pending final approval, final product may differ. Batteries will not be included for products with light up features due to customs.
Product and Box Dimensions
​
Est. Product size (LxBxHt): 37*37*78cm
Est. Product Weight : 20 kg 

Est. Box Size (LxBxHt) and Shipping Weight: 
Box A: 69*66*45.5cm, 24kg
Box B: 48*40*40.5cm, 17kg
---
Deposit : 3000HKD
Free shipping for HK customers