XM Alien Warrior <Procurement Service> - Sold Out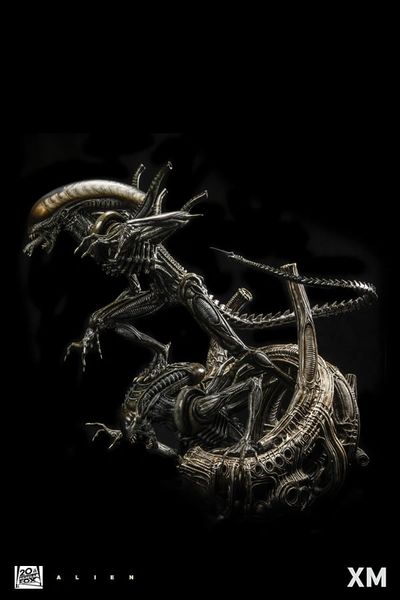 XM Alien Warrior <Procurement Service> - Sold Out
"HERE KITTY, KITTY, KITTY. MEAOW. HERE JONESY."
XM Studios is excited to present our next Supreme Scale series statue, Alien Warrior! An original concept and design by Narin Clayman, one of the best Alien sculptors we've had the pleasure and immense honor to collaborate with. This personal and original Alien work of art is crafted in amazingly detailed cold-cast porcelain and every handcrafted statue is painstakingly hand-painted with the highest possible quality finish - the renown XM quality. Supreme Scale is a special new scale that is not restricted to the standard 1:4, 1:3 or 1:6 scale. Instead, the scale is carefully designed for a perfect balance of size presence and details most suited for the sculpt, based on the Artist's vision.
Background:
The Alien (also known as Xenomorph or Internecivus raptus is a fictional endoparasitoid extraterrestrial species that is the eponymous antagonist of the Alien film series.

The Alien Warrior Supreme Collectibles statue features:
Two (2) Headsculpt for dynamic display: 1 headsculpt featuring the classic transparent dome-shaped skull and 1 headsculpt featuring a ridged/textured skull designed by Narin

Two (2) inner set of jaws: 1 fully extended and 1 retracted

A spine-chilling scene of Aliens emerging from a Giger inspired alien base, the feral and aggressive nature of these killers frantically clawing out of their swarm and lunging at the unfortunate target.

Jonesy! The ginger cat who is hiding from the Aliens. Expose the metal grate or hide Jonesy from the vicious Aliens!

Crafted from cold-cast porcelain 

Limited edition : MTO (Capped at 500)
Artists:
Concept by Studio Hive, Narin and XM Development Team

Narin Clayman (Sculpt)

XM Studios Design and Development Team

Manufactured by: 
XM Studios
Note: Prototype shown and pending final approval, final product may differ.
---
This is a large piece and ships in 2 boxes.
Est Box A Size: 71 cm L X 66.5 cm B X 53 cm H  
Est Box A Weight: 39 kg
Est Box B Size: 83.8 cm L X 54.5 cm B X 25 cm H 
Est Box B Weight: 18 kg
Alien Specifications
Est Product Size: 80 cm  L X 49 cm B X 72 cm H
Est Product Weight: 25 kg
 Free shipping for HK customer.
Deposit 4800HKD.
Order close on 30th March 2019.