XM 1/4 Apocalypse (Pre Order)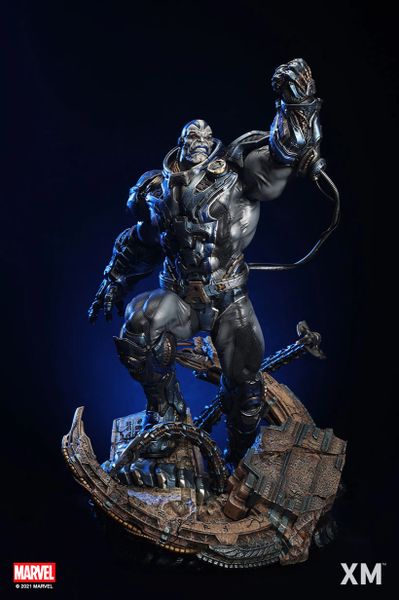 XM 1/4 Apocalypse (Pre Order)
Pre-Order opens 29 Sep 2021, 6pm (UTC+8).
Pre-Order before 13 Oct 2021, 6pm SGT (UTC+8) to receive a Apocalypse collectible Display Plaque as your early bird pre-order gift.

Description:

XM Studios is excited to present our next 1:4 MARVEL Premium Collectibles series statue, Apocalypse, the second release of our X-Force line!
One of X-Men's greatest threats and antagonist, Apocalypse is depicted here in all his powerful glory. With his powers to manipulate the molecular structures of his body, his left arm houses a big canon ready at his disposal, with switch-outs offering a mechanical pincer weapon and clenched fist. His right arm is fashioned into a chainsaw and gun, collectors are able to switch to a bare hand or his mechanical arrowed appendages lethal and ready to strike at a single thought.
The level of detail on Apocalypse Is unparalleled. The designed details and paint app on the modern yet strangely ancient armour that clad apocalypse, shows the transcending history that this ancient mutant has experienced. His grey skin, textured realistically, his metallic blue lips and red eyes, strong and expressive. The weapons are highly detailed, the base reveals elements from his temple. Which other X-Men statue collectible has a similar base I wonder? Are they perhaps in facing off each other in battle?
An essential centerpiece of our X-Force Series and for all X-Men collectors, Apocalypse is THE statue collectible for all Marvel and X-Men fans
Background
"Left abandoned, starved to death as a baby in the harsh, unforgiving desert of ancient Egypt, ruled by Rama-Tut, a band of nomadic raiders found an infant, gray-skinned and freakish in appearance, abandoned by the settlers of Akkaba. The nomads took the child for their own, giving him the name En Sabah Nur, "The First One," and teaching him to be "strong" in order to survive the desert as a child. This idea, that "the strong will survive," would shape Apocalypse's actions throughout time.. …" read more here


Features:
2 Headsculpt switch-outs: 1 enraged, 1 determined
3 Right arm switch-outs: 1 with chainsaw and gun, 1 with mechanical arrowed appendages, 1 of his bare right hand
3 Left arm switch-ours: 1 with a canon, 1 with a pincer-like weapon, 1 of clenched fist.
Crafted in cold cast porcelain.
Each handcrafted statue is individually hand-painted with the high-quality finish.

Artists:
Rafa Sandoval (2D)
Suheryanto Hatmaja (3D)
XM Studios Design and Development Team

Estimated Product details: 62*64*82cm, 28kg
Estimated Box Dimension and Weight:
Box A: 88*72*40cm, 19kg
Box B: 88*72*30cm 19kg
 
Manufactured by: 
XM Studios
Note: Prototype shown and pending final approval, final product may differ. Batteries will not be included for products with light up features due to customs.
Deposit: 2400HKD
Free shipping for HK customers .