XM DC 1/4 Reverse Flash - Classic (Pre Order)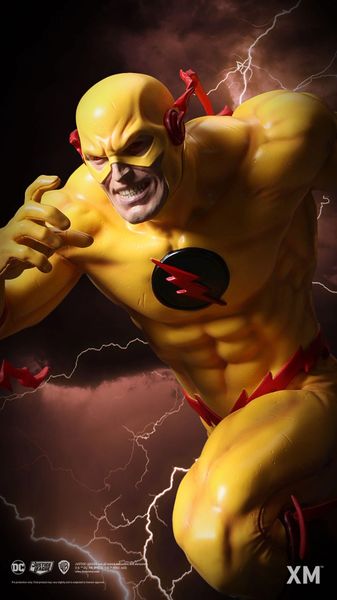 XM DC 1/4 Reverse Flash - Classic (Pre Order)
Pre-Order Opens: 3 Mar 2022, 6pm (UTC+8)
Pre-Order before 16 Mar 2022, 12pm SGT (UTC+8) to receive a collectible Display Plaque as your early bird pre-order gift!
XM Studios is excited to present our next DC Comics Premium Collectibles statue, Reverse Flash! XM will be making this statue available in both 1:4 and 1:6 scale. Each painstakingly handcrafted statue is individually hand-painted with the famous XM quality finish, and comes in a bold, dynamic, and story-laden style.
"Granted with powers and abilities similar to that of the Flash, the Reverse-Flash is unwavering in his determination to oppose and destroy all that's important to the Flash. His ability to travel through time allows him to attack the Flash at almost any point throughout history. However, he is unable to ever kill the Flash—for the Reverse-Flash would not exist if he killed his own inspiration. Instead, he does everything in his power to torment and torture the hero, an ominous visitor from a future the Flash never could've envisioned."
In a display of playful aggression and pure unhinged speed, the setting for this statue sees the Reverse Flash with a sadistic smile on his face as he chases down the scarlet speedster, shoulders hunched forward and muscles rippling through his suit like a predator running after its prey. Collectors who have bought this statue together with the Flash will have the option to display it either as a standalone piece or as part of a pair to recreate the scene above as intended. It comes with upper body switch outs featuring Reverse Flash leaning forward mid-chase or in a pose where he is almost within grasp of the Flash and has his fist balled up while preparing to launch a forward punch. Collectors will also be able to display the alternative upper body switch out as a torso pedestal.
Character Background:
"Born in the 25th Century, Eobard Thawne grew up idolizing the Flash and studying the legacy of the Scarlet Speedster. However, as he learned more about the Flash, Eobard discovered how his own life was linked to his hero's: He was destined to become one of Barry Allen's greatest villains, a revelation that led Eobard to grow unhinged. When he eventually replicated the chemical accident that granted the Flash super speed, Eobard took on a new identity—that of the Reverse-Flash, a wicked subversion of everything the Flash stands for." https://www.dccomics.com/characters/reverse-flash
The Reverse Flash Premium Collectibles statue features:
Two (2) Left-Hands: 1 with his hand holding on to his murderous blade the Reverse Flash Lightning Rod, 1 featuring an empty hand
Two (2) Upper-Bodies: 1 with Reverse Flash leaning forward, 1 with Reverse Flash leaning slightly to the side in an attacking pose
One (1) Torso Pedestal: 1 pedestal for collectors to display the alternative upper body switch out
Highly detailed sculpt featuring the Flash on a destroyed and mangled highway bridge
Crafted in polystone
Each painstakingly handcrafted statue is individually hand-painted with quality finish
Artists:
Rafa Sandoval (2D)
Alan Sales (3D)
XM Studios Design and Development Team
Manufactured by:
XM Studios
Note: Prototype shown and pending final approval, final product may differ. Batteries will
not be included for products with light up features due to customs.
Product and Box Dimensions
​
Estimated Product Size (LxBxHt): 50x32x54cm
Estimated Product Weight : 16 kg 

Estimated Box Size (LxBxHt): 75*55*35cm
Estimated Shipping Weight : 19 kg 
Deposit: 3000HKD
Free shipping for HK customers