XM DC 1/6 The Flash - Classic (Pre Order)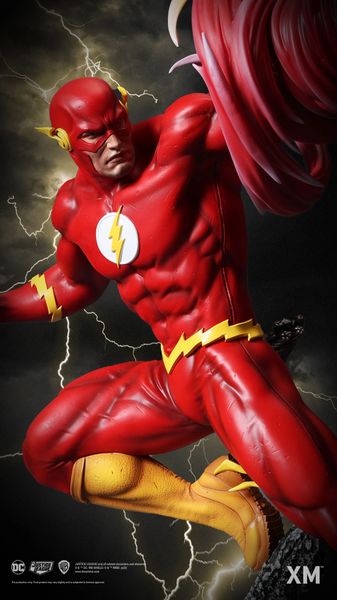 XM DC 1/6 The Flash - Classic (Pre Order)
Pre-Order Opens: 3 Mar 2022, 6pm (UTC+8)
Pre-Order before: 16 Mar 2022, 12pm SGT (UTC+8) to receive a collectible Display Plaque as your early bird pre-order gift!
XM Studios is excited to present our next DC Comics Premium Collectibles statue, the Flash! XM will be making this statue available in both 1:4 and 1:6 scale. Each painstakingly handcrafted statue is individually hand-painted with the famous XM quality finish, and comes in a bold, dynamic, and story-laden style.
"The mysterious power known as the Speed Force is an energy field that has, over the centuries, granted incredible powers of velocity to certain heroes. The most famous of these is the Flash, also known as the Fastest Man Alive.
For every action, there's an equal and opposite reaction. And with every step the Flash takes toward the future, someone from the future is racing backward through time to stop him—the villainous speedster known as the Reverse-Flash."
The XM Team wanted to create a scene in which the scarlet speedster is being chased by Reverse Flash in a battle of wit, wills, and speed. As such, this statue can be displayed either as a standalone piece with a destroyed and mangled highway bridge serving as the base of the statue or as part of a pair when bought together with Reverse Flash. In this scene, collectors will be able to display the Flash in a reactive pose in which he is seen twirling his left hand at super speed at Reverse Flash, all while sporting a determined look upon his face.
Character Background:
"The Flash has mastery over not just speed, but time itself, and he has often used his powers to travel though different eras and even into other dimensions. Although the Flash has not always been fast enough to outrun personal tragedy when it has come for him, he always does his best to prevent the same from happening to the people of Central City and Keystone City."
https://www.dccomics.com/characters/the-flash
The Flash Premium Collectibles statue features:
One (1) Left-Hand: 1 featuring the Flash twirling his hand at super speed
One (1) Upper-Body: 1 with the Flash turning back
Highly detailed sculpt featuring the Flash on a destroyed and mangled highway bridge
Crafted in polystone
Artists: 
Rafa Sandoval (2D) 
Alan Sales (3D) 
XM Studios Design and Development Team 
Manufactured by:  
XM Studios 
Note: Prototype shown and pending final approval, final product may differ. Batteries will  not be included for products with light up features due to customs. 
Product and Box Dimensions
​
Estimated Product Size (LxBxHt): 37x41x33cm
Estimated Product Weight : 4 kg 

Estimated Box Size (LxBxHt): 60*45*25cm
Estimated Shipping Weight : 6 kg 
Deposit: 1800HKD
Free shipping for HK customers