XM Exclusive 1/4 Ghost Rider (Horseback Edition) - Pre Order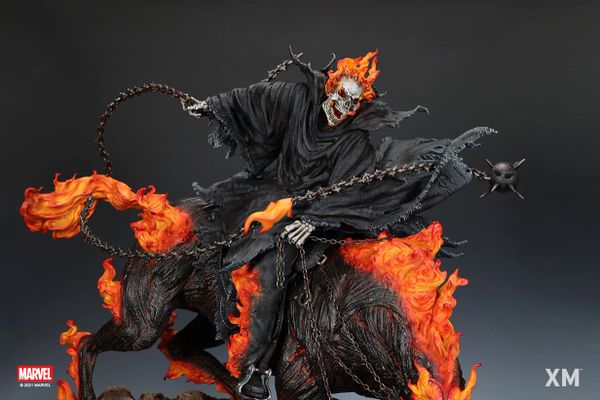 XM Exclusive 1/4 Ghost Rider (Horseback Edition) - Pre Order
Pre-Order opens 15 Dec 2021, 6pm (UTC+8).
This statue will be shipped from Q1 2022. Direct customers will receieve their Ghost Rider (Horseback Edition) in the first batch. 

Description:
 
A centerpiece for every collector. Hellfire blazing, black hooves galloping, a flaming skull behind the cloaked figure, chained flail in hand. This art statue collectible features Ghost Rider in action as he executes his demonic duties, hunting down souls and sending them straight to hell on the back of his blazing hell beast.
A piece like no other, Ghost Rider (Horseback Edition) is a unique interpretation that personifies the devil's bounty hunter on the back of his gorgeous hell beast. The unique paint application of the fiery colours of the hell fire juxtaposing beautifully with the black cloaked rider and jet-black flesh of the hellfire born horse. The statement base wraps this up to be a signature centerpiece in your collection.
Collector are able to choose between displaying Ghost Rider in his black cloak fraying at the edges, or switch out the upper body with Ghost Rider in his leather cowboy outfit, gloved hands reigning the hell horse in hand.
 
Background

Features:
2 switch-out upper body: 1 features Ghost Rider in black cloak, 1 features Ghost Rider in his leather coat and pairing hat.
1 podium to display upper body.
Collectible display plaque 
Crafted in Polystone
Each handcrafted statue is individually hand-painted with the high-quality finish.

Artists:
Riccardo Federici (2D)
Tiago Rios (3D)
XM Studios Design and Development Team

Estimated Product details: 75*60*75cm, 32kg
Estimated Box Dimension and Weight: 
Box A: 88*80*34cm, 24.5kg
Box B: 88*80*39cm, 24.5kg
 
Manufactured by: 
XM Studios
Note: Prototype shown and pending final approval, final product may differ. Batteries will not be included for products with light up features due to customs.
Deposit: 6000HKD
Free shipping for HK customers.