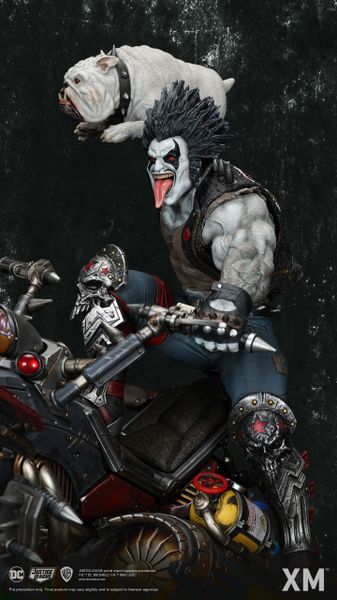 XM Exclusive 1/4 Lobo
You asked for it... And we've delivered! XM Studios is excited to present a highly anticipated release, our next 1:4 DC Premium Collectible, Lobo!
Each painstakingly handcrafted statue is individually hand-painted with the XM quality finish, and comes in a bold, dynamic, and story-laden style.
In 2019, XM released the 1:6 scale version of this statue, and ever since that release, we've had several collectors asking us if we'll ever be doing up a 1:4 version. For this larger-scaled version, the XM Design and Development Team has retained everything that made collectors fall in love with the 1:6 version, with a few key differences. The base, for one, has been changed to feature chained up stereos with metallic and spiky motifs that stay true to The Main Man's unique style. Also new to this release is a head switch-out featuring Lobo sticking his tongue out and an additional right-hand switch-out, in which he is holding on to a base guitar, ready to belt out some chords.
As with the 1:6 scale version, Lobo is seen riding atop his "space cycle", which he named the Spacehog, displayed in its full glory with bellows of green smoke underneath, reminiscent of the smoking effects seen in concerts, taking on the form of misshapen skulls. 
Character Background:
The Last Czarnian and "The Main Man," Lobo is the most badass bounty hunter in the galaxy.
He's the best bounty hunter in the known universe and the last sentient being you'd ever want to get into a bar fight with if you hope to make it out in one piece. He's the intergalactic alien badass known as Lobo, often called by his nickname "The Main Man," and if you're lucky, you'll never cross his path.
You might be asking yourself why an alien being would be named after an Earth animal, even one as fierce as a wolf. That's because the word "Lobo" in this instance translates into "he who devours your entrails and thoroughly enjoys it" in the ancient Khund dialect. Turns out, his parents could not have given him a more fitting name.
Riding around the spaceways on his "space cycle," which he named Spacehog, Lobo exhibits all the traits someone would associate with a biker in a Hell's Angels-style motorcycle gang on Earth, from his long hair and tattoos, down to his kill or be killed attitude. 
Over the years, Lobo has fought on the side of both the good guys and the bad, pretty much just drifting towards whoever pays him the most to get the job done, or which side promises him the better, bloodier fight. He's tussled with Superman and the Justice League, and just about every superhero in the DC Universe.

The Lobo (Rebirth) Premium Collectibles statue features:
Three (3) Portrait: 1 with goggles, 1 with longer dreadlocks, 1 with his tongue sticking out
Three (3) Right-Hand: 1 holding his signature weapon: hook on a chain, 1 holding a base guitar, 1 holding Dawg in the air!
Two (2) Left-Arm: 1 holding the handle bar, 1 in a rocking out pose
Highly detailed sculpt featuring The Main Man perched on his crazy cool Spacehog, Dawg by his side as he speeds up in pursuit of his current target.
Crafted in polystone
Each painstakingly handcrafted statue is individually hand-painted with the high quality finish

Artists Involved:
Ario Anindito, Foo Tze Wei (2D)
Alvaro Ribeiro, Nillo Samyr (Sculpt)
XM Studios Design and Development Team

Manufactured by: 
XM Studios
Note: Prototype shown and pending final approval, final product may differ. Batteries will not be included for products with light up features due to customs.
Product and Box Dimensions
​
Estimated Product Size (LxBxHt): 90*45*70cm
Estimated Product Weight : 23 kg 

Estimated Box Size (LxBxHt): 87*85*39cm
Estimated Shipping Weight : 29 kg 
Deposit: 4800HKD
Free shipping for HK customers