XM/LBX 1/3 Magneto - Prestige Series - Premier Edition ( Sold out)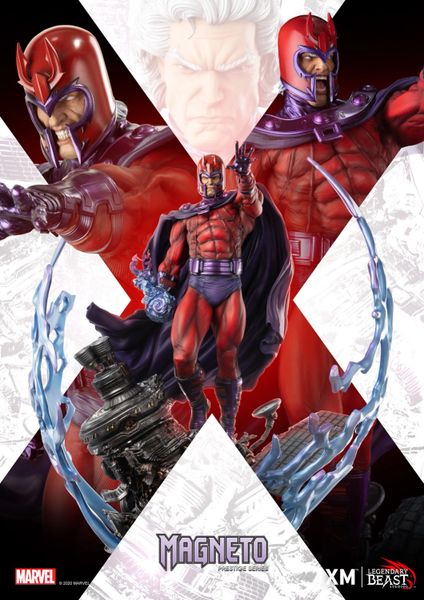 XM/LBX 1/3 Magneto - Prestige Series - Premier Edition ( Sold out)
XM Studios in collaboration with Legendary Beast Studios is proud to present the Master of Magnetism MAGNETO! This statue showcases a man who will never hesitate to do what he believes is right for mutanthood! The collectible work of art displays Magneto aggressively destroying a satellite, that earth would use against him and his kind. Using his Powers of Magnetism, his aura field of energy wraps around him displaying unseen power and beauty. Displaying an attitude of pride and anger, this statue is the perfect representation of the self-proclaimed saviour of all mutants.
Background:
Harnessing his powerful magnetic abilities, Magneto has become a radical freedom fighter in the name of his kind. His only priority is the preservation of the mutant race—even at the expense of what some might deem to be the greater good. Read more 
here
.

Magneto - Prestige Series - Premier Edition statue features:
An imposing 1/3 Scale Polystone statue, showcasing Magneto in his Classic Jim Lee - Era costume, crafted with vibrant and detailed paints to stand amongst any collection.
Crushed satellite base, showcasing his magnetic powers of destruction.
1 x Serious Face with Helmet
1 x Gritted Teeth Face with Helmet
1 x Unmasked Face
1 x Aura Right Hand
PREMIER EDITION: WRAP AROUND AURA EFFECT
PREMIER EDITION: SCREAMING HEAD WITH HELMET
ES: MTO Max 699
NOTE: The Premier Edition has an optional swap out function whereby you can take the aura on or off, enabling it to be displayed to suite a collectors needs
Artists:
HMT Studios (Design)
Sheridan Doose (Sculpt), Ryan Serrano (Heads) Production
Engineering and Quality Assurance by XM Studios Team and Legendary Beast Studios
 
Manufactured by: 
XM Studios
Note: Prototype shown and pending final approval, final product may differ. Batteries will not be included for products with light up features due to customs.
Product and Box Dimensions
​
Est. Product size (LxBxHt): 74*56*87cm
Est. Product Weight : TBA
Est Box Size and Weight: TBA
 Deposit : 3600HKD
Free shipping for HK customers