XM SpaceGodzilla 1994 - Ver A (Pre Order)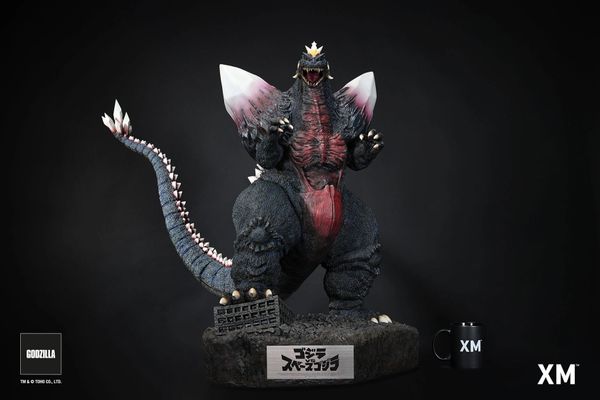 XM SpaceGodzilla 1994 - Ver A (Pre Order)
This 60cm full-scale SpaceGodzilla collectible recreates SpaceGodzilla in the Godzilla VS SpaceGodzilla 1994 movie's final battle scene.
XM's interpretation of Godzilla 1994 and SpaceGodzilla 1994 stays true to the original Japanese movie (Godzilla VS SpaceGodzilla 1994). The man-in-suit effect in the sculpt and pose pays homage to the aesthetics of the iconic film. When CGIs in movie production had yet to become the norm, donning a thick rubber suit was the way to bring Godzilla to the big screen, and cables were utilised to maneuverer its rigid tail to a camera-ready position and hand-painted buildings set the scene. These details and culture have paved the way to cement an iconic and unique production aesthetics that Godzilla fans and collectors affirm and adore. In SpaceGodzilla XM has encapsulated all that with gorgeous detailing, colour application and a solid composition. The crystal-like corona beam that protrudes from his shoulders, vertebrae and tail are sculpted and painted beautifully.
 
SpaceGodzilla 1994 Ver A and B
SpaceGodzilla 1994 comes in 2 versions. This is Ver A. Ver A features a simple, minimal base, placing the focus on SpaceGodzilla itself. In Ver B, the elaborate base offers a full visual display experience to recreate the final battle scene with Godzilla in the movie with hand-painted movie-accurate buildings forming part of the base and crystal structures surrounding SpaceGodzilla, forming his crystal fortress in Fukuoka. Staying true to the aesthetics and original 1994 movie during the Heisei era, Ver A or B, this SpaceGodzilla collectible has carved its place in every Godzilla fan's collection.
Accompanying Piece: Godzilla 1994
XM has also designed Godzilla as the accompanying piece, so collectors can display them side by side or facing each other, fully re-creating the final battle scene in Godzilla VS SpaceGodzilla 1994.
For Godzilla 1994 Ver A, please click here
For Godzilla 1994 Ver B – XM Exclusive, please click here

SpaceGodzilla 1994 Ver A Features:
Depicts Godzilla in the final battle scene in Godzilla VS SpaceGodzilla 1994 movie.
Simple, minimal rock-like base..
Crafted in Polystone
Each handcrafted statue is individually hand-painted with high-quality finish

Artists:
Tanaka Kenichi
XM Studios Design and Development Team

Estimated Product details: 88*120*80cm, 53kg
Estimated Box Dimension and Weight: Box A: 90*75*55cm, Box B: 90*70*40cm, 64kg
Manufactured by: 
XM Studios
Note: Prototype shown and pending final approval, final product may differ. Batteries will not be included for produ
Deposit: 6000HKDts w
Free shipping for HK customersght up features due to custom