XM Transformer - Optimus Prime (Bust) (Pre Order) ES150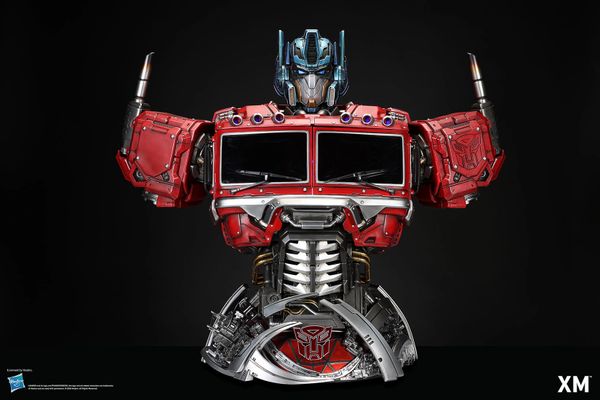 XM Transformer - Optimus Prime (Bust) (Pre Order) ES150
Pre-Order Opens: 26 May 2022, 6pm (UTC+8)
Pre-Order before 8 June 2022, 12pm SGT (UTC+8) to receive a collectible Display Plaque as your early bird pre-order gift!
"TODAY, IN THE NAME OF FREEDOM, WE TAKE THE BATTLE TO THEM."
Presenting our largest 1/3 scale bust to date—from the Transformers Premium Collectible Series, Optimus Prime! Each handcrafted statue comes individually hand-painted with XM's famous quality finish. 
With this statue, the XM Team wanted to create a bust that's worthy for all transformers fans. This design is a replica of XM's highly acclaimed 1/10 scale statues, this time featuring even more details for collectors to enjoy. Crafted from scratch, every nut, bolt and wire is lovingly designed and sculpted ground up by a team madly in love with the G1 era of Transformers cartoons.
This awe-inspiring bust of the leader of the Autobots features an amazingly detailed mix of both modern and classic design elements from the G1 animated series. Futuristic Cybertronian elements can be found within the base, with the Autobot logo featured prominently at the front. The base itself has a light-up feature that further accentuates the colors of the base. 
Moving upwards from the base, an amazingly detailed torso which features mechanical parts, greased and worn down from wear can be seen. Collectors will have the option to display their Optimus Prime bust with the chest windows either closed or open to showcase the Matrix of Leadership, which can be lighted up. A row of lights can also be found along the top of the chest, further giving this statue a regal look as Optimus Prime stares ahead.
A companion piece featuring Megatron will be released together with this bust.
Character Background
"Optimus Prime is the noble leader of the heroic Autobots. He believes freedom is the right of all sentient beings. He carries the Matrix of Leadership, an ancient and powerful artifact that gives him upgraded abilities and knowledge of all Cybertronian history. He is beloved for his compassionate nature, steadfast leadership, and heroic feats in battle."
The Optimus Prime bust features:
Highly detailed sculpt featuring a 1/3 scale bust of Optimus Prime
Chest window can be left open or closed to show the Matrix of Leadership
Light-up feature within the base
Pre-Order early to receive a collectible Display Plaque
Crafted in polystone
Each painstakingly handcrafted statue is individually hand-painted with the highest possible quality finish
Artists:
Filipe Bento Ribeiro De Souza (3D)
XM Studios Design and Development Team
Estimated Product Size (LxBxHt): 110*60*91cm
Estimated Box Size (LxBxHt)
Box A - 65*80*55cm
Box B - 70*80*40
Box C - 66*70*48
Est. Product Weight: 14kg Est. Shipping Weight: 87kg
Manufactured by:
XM Studios
Note: Prototype shown and pending final approval, final product may differ. Batteries will not be included for products with light up features due to customs.
Deposit: 10500HKD
Free shipping for HK customers