XM Ultraman (C Type) 30cm (Pre-Order) before 24th May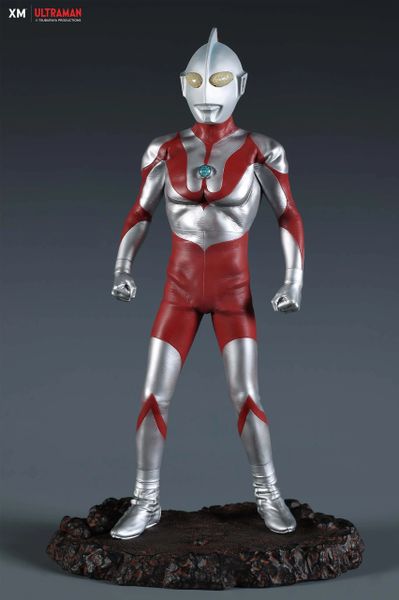 XM Ultraman (C Type) 30cm (Pre-Order) before 24th May
XM Studios is excited to present our newest addition to the Ultraman line, the Ultraman (C Type) in 30cm!
Ultraman (C Type) stands firmly planted on the ground, showcasing his unwavering determination to protect Earth and its inhabitants from the forces of evil. At a height of approximately 30cm, this highly detailed and realistic polystone statue captures the essence of the iconic hero from the classic Japanese TV series. 
Crafted with meticulous attention to detail by Yoshiki Fujimoto, Ultraman (C Type)'s suit and physique have been carefully sculpted to perfection, faithfully recreating the folds and creases from the latex suit in the original series. Each statue is then painstakingly handcrafted, and individually hand-painted with the famous XM quality finish.
Ultraman collectors will be delighted with the Ultraman (C Type) 30cm as it is also a switchout option for the Ultraman Vs Kaiju diorama. This means collectors can replace the existing Ultraman in Spacium Beam pose on the diorama with the Ultraman (C Type) 30cm, allowing them to display him either facing the wave of kaiju head-on or with his back towards the kaiju, adding even more versatility to their collection.
Check out XM's other Ultraman premium statue collectible:

The Ultraman (C Type) 30cm Premium Collectible Features:
●       Highly detailed sculpt of Ultraman
●       Crafted in polystone
●       Each painstakingly handcrafted statue is individually hand-painted with the highest possible quality finish

Artists:
●       Yoshiki Fujimoto
●       XM Studios Design and Development Team
Manufactured by:
XM Studios
Note: Prototype shown and pending final approval, final product may differ. Batteries will not be included for products with light up features due to customs.
Product and Box Dimensions
​
Product Size: 20 x 13 x 33cm
Est. Box Size: 35 x 40 x 14cm
Est. Product Weight: 0.7kg
Est. Shipping Weight: 1.7kg
Deposit: 600HKD
Free shipping for HK customers