XM Ultraman Vs Kaiju in 30cm scale (Pre-Order)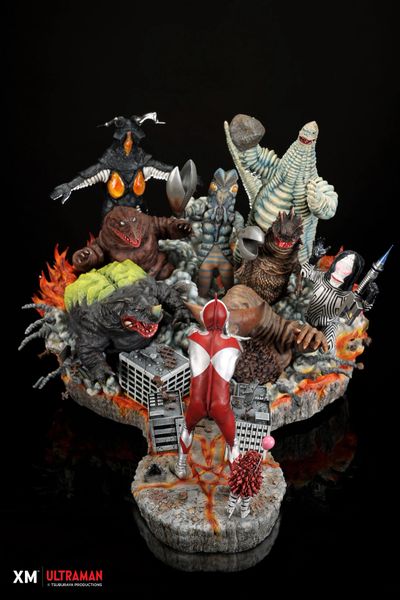 XM Ultraman Vs Kaiju in 30cm scale (Pre-Order)
頑張れ!ウルトラマン!
Gannbare, Ultraman!
Earth, which was once peaceful,
is invaded by an army of kaiju as they emerge from the ground - leaving a trail of destruction and flames.
In a seemingly hopeless plight, comes a protector from the Land of Light.
Ultraman faces his nemeses head-on as he stands firm protecting the city,
including a diminutiveally.
The fate of Earth lies with Ultraman as he prepares to fire Spacium Beam. 
He is not alone in this fight; the SSSP is with him. 
You can do it, Ultraman! 
Background:
Ultraman Vs Kaiju is envisioned and conceptualized by XM Team together with 2D artist Matt Frank, showcasing Ultraman facing off notable kaiju in a final war scene. 
The concept was brought to life with Yoshiki Fujimoto*,
who is the 3D artist for Ultraman, and Kenichi Tanaka**,
who is the 3D artist for kaiju and base.
XM's interpretation stays true to the concept behind suitmation.
Each painstakingly handcrafted statue is individually hand-painted with the famous XM quality finish, and comes in a bold, dynamic, and story-laden style. 
*Fujimoto Sensei is also the 3D artist for XM's Ultraman (C-Type) Statue and Ultraman (C-Type) Bust Statue.
**Tanaka Sensei is the 3D artist for XM's Godzilla vs SpaceGodzilla, Godzilla 2001 Bust and Shin Godzilla Bust statues. 
The Ultraman Vs Kaiju Premium Collectible Features:
Highly detailed sculpt of Ultraman in Spacium Beam posture protecting Pigmon,
facing
Zetton
Red King
Alien Baltan
Neronga
Telesdon
Bemular
Gomora
Dada
Hidden SSSP logo
Crafted in polystone
Each painstakingly handcrafted statue is individually hand-painted
with the highest possible quality finish
Artists:
Matt Frank (2D Artist)
Yoshiki Fujimoto (3D Artist, Ultraman)
Tanaka Kenichi (3D Artist, Kaiju and Base)
XM Studios Design and Development Team
Manufactured by: 

XM Studios
Note: Prototype shown and pending final approval, final product may differ. Batteries will not be included for products with light up features due to customs.
Product and Box Dimensions
​
ProductSize: 64*83*48cm (LxBxH)

Est.
Box Size: 95*70*45cm (LxBxH)

Est.
Product Weight: 41kg Est.
Shipping Weight: 45kg Est.
Deposit: 4500HKD

Free shipping for HK customers