開天工作室 1/4 三國群雄-呂布- 豪華版 - (Pre Order) ES 300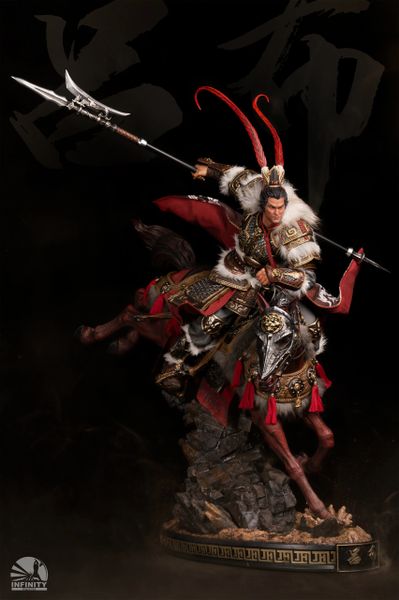 開天工作室 1/4 三國群雄-呂布- 豪華版 - (Pre Order) ES 300
l  The most powerful and famous warlord from "Three-Kingdoms" become amazing 1/4 statue!
l  Nearly 1 meter height!
l  Dynamic design with stable structure
l  Ultra-realistic paint among armor, horse and weapons
l  Various materials: real fabric cape, furry collar and decorations
l  His Iconic weapon "Fang Tian Spear" can switch between Sole/Dual Blades!
l  Deluxe Version comes with Additional 1) Bow and display stand; 2) Replaceable Quiver; 3) Special Collection Medal.
l  《三國演義》中最強最有人氣的武將,以驚人的1/4比例登場!
l  接近1米的震撼高度!
l  在保證穩定的前提下,帶來躍動感的設計
l  呂布的鎧甲、戰馬、武器,均採用超寫實塗裝!
l  多種材質帶來更強體驗:布料披風、毛領、戰馬裝飾,以不同質感呈現!
l  呂布標誌性武器"方天畫戟"可以自由替換單/雙刃
l  豪華版專屬:1)弓與專屬展示架;2)箭袋;3)專屬紀念章


比例:1/4
材料: 寶麗石, PU, 真實布料
尺寸: 95cm 高*54cm 寬*75cm 深
Deposit 2200HKD
Free shipping for HK customers.