HMO's Bounties of Bathos – 1/4 SORROW – "The Aqua Knight" (In stock) ES 200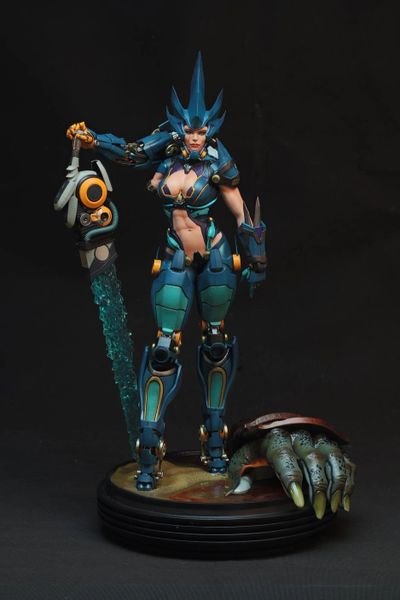 HMO's Bounties of Bathos – 1/4 SORROW – "The Aqua Knight" (In stock) ES 200
HMO Collectibles is proud to present Sorrow, the next in the limited edition Bounties of Bathos line up.
Bring home Sorrow, which represents the Aqua-Knight in true form. Colour that breathes life into your collection: Deep blue shades transit to beautiful teal tones and orange punctuates in this amazing color combination piece. Designed to tease your senses and incorporate experimental elements, Sorrow in 1:4 scale was created by the world-class HMO Creative Team and is a truly unique character based on a conceptual world.
Standing at 17.4 inches tall and cast in high-quality resin. Sorrow gives you:
"Your choice of display between 2 heads and 3 portrait configurations of helmeted without a visor, helmeted with visor and non-helmet variations"
"Time to admire hyper-detailed mecha and organic design designed with engineering in mind, characteristic of Bounties of Bathos characters"
"A new level of realism with water effects multi-stage-casted with swirling blood effects"
"A story-telling base with realistic severed Zectus's hand"
The Bounties of Bathos line was specially created for a special breed of collectors, concept art lovers and close supporters of HMO. Lock-in your Sorrow now…


Free shipping for HK customers 

piece!