Infinity Studio LOL 1/4 "Rise of the Thorns-Zyra (Pre Order)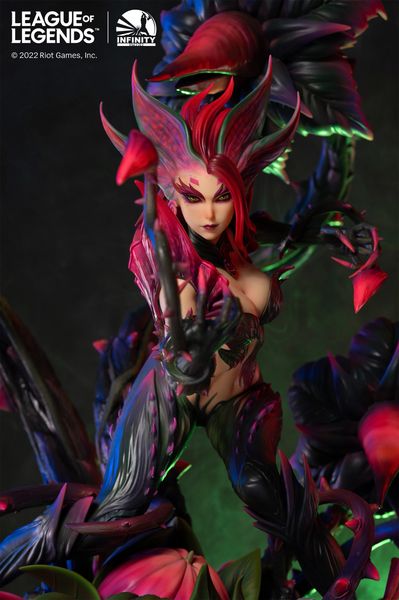 Infinity Studio LOL 1/4 "Rise of the Thorns-Zyra (Pre Order)
Description:
《英雄联盟》×开天工作室 正式推出雕像新作——荆棘之兴·婕拉。
婕拉充满魅力的外表,与能够号召自然的力量,让她成为独具辨识性的英雄角色。
呈攻击形态的藤蔓植物塑造了整体的场景,使作品动态表现力十足;
此款雕像为双头雕设计,玩家可以通过替换头雕展现婕拉的不同神态。
替换头雕附属有主题展示支架。
Infinity Studio is honored to introduce our latest officially licensed League of Legends statue: 1/4 "Rise of the Thorns-Zyra"! For the first time, this well-known champion become real collectibles in the form of 1/4 Polystone statues.
Zyra already summoned her iconic thicket, aiming her target by the thorns. We picked the dynamic scene that her spines break out the ground and ready to shoot, makes collectors remind of her abilities in the game. With this design you can feel her wild charm.
The statue comes with dual head sculpts, by changing them freely collectors can choose to display Zyra with different expressions.
Features:
-First official Zyra statue among League of Legends' history
-Dynamic design with top class handmade paint application
-Height over 50cm, ultimate value for collection
Pre-Order Information
Product code: IFG0023
scale:1/4
material: Polystone etc.
size: H51cm*W47cm*L45cm
Version:/
Edition size: 499
PO Period: From 20: 00 8th Jul 2022 to 28th Jul 2022(UTC+8)
ETA: Q2 2023
Deposit: 2300HKD
Free shipping for HK customers