Kinetiquettes 1/4 Demitri Maximoff – The Ruler of Zeltzereich (Pre Order)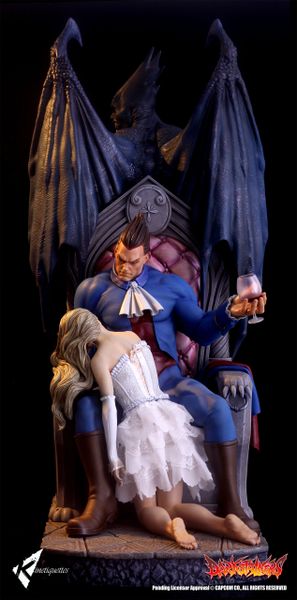 Kinetiquettes 1/4 Demitri Maximoff – The Ruler of Zeltzereich (Pre Order)
or our latest pre-order, Kinetiquettes is delighted to have on offer from CAPCOM's Darkstalker series "Demitri Maximoff - The Ruler of Zeltzereich".
This is a statue of Demitri Maximoff on his throne with a fresh kill in his arms as he sips the lifeblood from her dying corpse. The throne is designed to be reminiscent of his throne room in the classic Darkstalkers game with added elements of his demon form behind the throne which can be added or removed from the throne structure.
DEMITRI MAXIMOFF (デミトリ) – THE RULER OF ZELTZEREICH

Sculptor:
Ali Jalali, Adeeb Md
Background:
Deep within the mountains of Romania lies a castle that appears only on a full moon. The castle, named after the owner of the land, was called Zeltzereich. This castle belonged to a Makai Vampire, Demitri Maximoff.
Edition Size:
Made-To-Order (MTO)
Dimensions:
L54 x W38 x H73 cm
Materials:
Polystone / Polyurethane Resin
Deposit: 3500HKD
Free shipping for HK customers
Product orders will close by 28 February 2023 so please ensure that you have submitted your PO's before this date.