Mighty Jaxx 9" Vinyl Rainbow Dash by Ricardo Cavolo (Pre Order)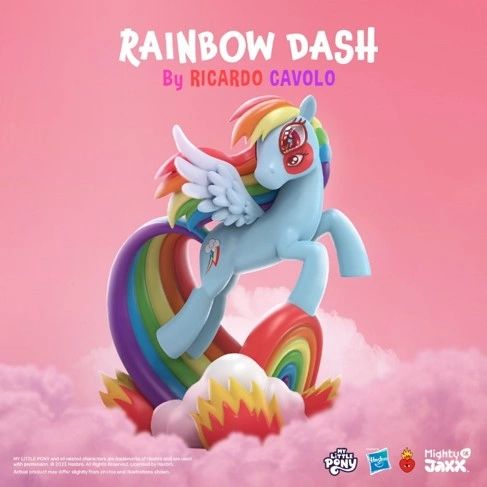 Mighty Jaxx 9" Vinyl Rainbow Dash by Ricardo Cavolo (Pre Order)
RICARDO CAVOLO

ARTIST

Barcelona-based illustrator Ricardo Cavolo is known for his colorful, visually engaging art. He draws inspiration from a wide variety of sources, from pop culture to folk art to religious imagery.

The characters in his work often feature four (or more) eyes, his way of giving them the ability to see more than the average person; wisdom that transcends formal education.




Fiercely loyal, a little brash, and one of the best fliers in Equestria—Rainbow Dash has burst onto the scene. Sculpted through the eyes of Spanish artist Ricardo Cavolo, Rainbow Dash is reimagined with two pairs of eyes—Ricardo's signature element.
 
These eyes represent her strong sense of perspective. One one hand, this references her remarkable talent for flying, able to quickly react to different aerial situations. On the emotional front, it points towards her self-consciousness in front of others—she wants to be perceived as a strong, capable character.
 

This collectible features her successfully pulling off a Sonic Rainboom. This difficult feat was achieved during the Best Young Fliers competition, when she was saving her friends from plummeting to the ground during an accident—a character defining moment. Paired with the intense colors, and free-flowing lines, this collectible is a meaningful visual treat.


Product Details
 
9" Vinyl Art Collectible
 
Product Status: Pre – Order
  

Estimated Shipping Date: End May 2023
Deposit: 500HKD
Free shipping for HK customers