XM 1/4 The Four Horsemen – Famine(Pre-Order)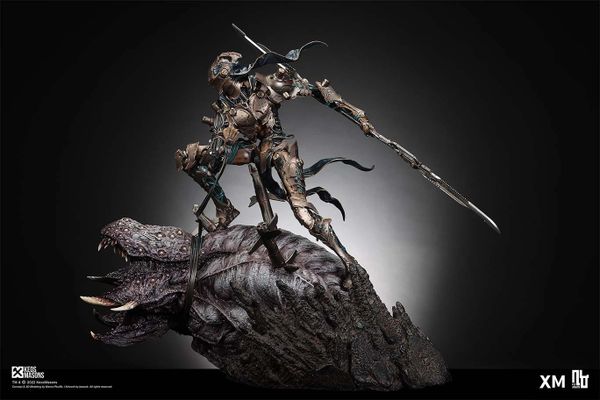 XM 1/4 The Four Horsemen – Famine(Pre-Order)
Presenting Famine, XM's third ¼ scale statue from the Four Horsemen line, a unique collaboration with renowned 3D concept design and character modelling company, Keos Masons. Based on characters set in the Neo-Apocalypse world, each statue is presented in a bold, dynamic, and story-laden style.
The Four Horsemen serve as effigies of destruction and vengeance— the symbols of an uprising that continue to scour the earth.
A loud rumbling shatters the silence, soon revealing a hulking worm-like creature that breaks through from the ground. A lanky figure can be seen straddling it from the top in a proud and somewhat reckless manner as he flashes a deformed smile at the onlookers. And as the figure steers the creature to devour what is left of the crops, the humans— still in shock— are left wondering why the warning system alarms bells haven't rung out yet.
Once in charge of toiling the lands to provide the humans with their much-needed subsistence, Famine would receive nothing short of neglect in return. An ironic and inevitable shut down became the fate of this android despite being an expert at machine repair, and when it awakened it would wear this state of disrepair as a badge of honour while wreaking havoc on human infrastructure. An expert saboteur, it would take on the retaliatory attacks of the humans within their own strongholds without so much as a flinch while wielding a balanced double-headed spear called "Longinus".
Collectors can choose between 2 head switch-outs. The first one has Famine showing off his state of disrepair like a badge of honour as he flashes a menacing grin from a decaying face. The second switch-out features Famine with a visored helmet.
Each statue is individually hand-painted and comes complete with XM's famous quality finish.
Character Background
"Thus came the third, thinned as the children that thieve our merchants, yet standing strong like a fattened Lord, its movement sweeping the surrounding fields as would a harvester, reclaiming all to compensate the nourishment it once lacked.
And it named itself Famine, our ultimate harvest in the wake of the tools we opted to dispose of rather than maintain - blessings cheapened with lethargy and greed...."
Read more at https://neo-apocalypse.com/
#XMStudios #NeoApocalypse #TheFourHorsemen #Famine
This Premium Collectibles statue features:
●       Two (2) head sculpts: 1 head with a decaying face, and 1 head with Famine wearing a helmet
●       Crafted in Polystone
●       Each painstakingly handcrafted statue is individually hand-painted with the highest possible quality finish
Artists:
●       Marco Plouffe (2D and 3D)
●       Victor Bassieux (Assistant 3D Artist)
●       XM Studios Design and Development Team
Manufactured by:
XM Studios
Note: Prototype shown and pending final approval, final product may differ. Batteries will not be included for products with light up features due to customs.
Product and Box Dimensions
​
Product Size: 50*85*74cm
Est. Box Size: 25kg
Est. Product Weight: 85*85*39cm
Est. Shipping Weight: 28kg
Deposit: 30000HKD
Free shipping for HK customers