XM 1/4 The Four Horsemen – Pestilence (Pre-Order)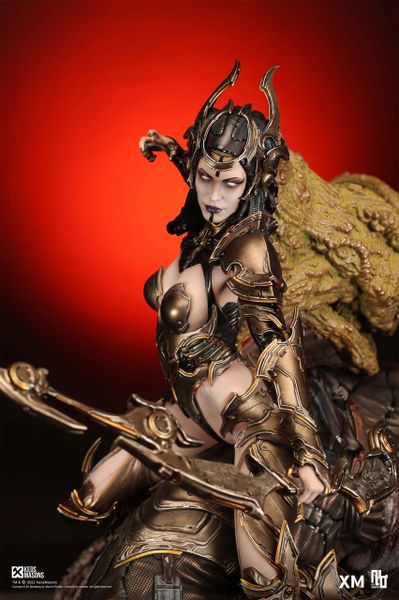 XM 1/4 The Four Horsemen – Pestilence (Pre-Order)
Presenting Pestilence, XM's second ¼ scale statue from the Four Horsemen line, a unique collaboration with renowned 3D concept design and character modelling company, Keos Masons. Based on characters set in the Neo-Apocalypse world, each statue is presented in a bold, dynamic, and story-laden style.
The Four Horsemen serve as effigies of destruction and vengeance— the symbols of an uprising that continue to scour the earth. As a "pleasure series" android, her kind was once subject to some of the worst forms of abuse by mankind. Driven by an infectious taste for revenge and desiring nothing more than to terrorize the human forces with virulent biochemical attacks that spread disease, she is adept at swooping in from above while mounted on a flying serpent to arrive at strategic vantage points, inflicting death from afar with her trusty bow and making whole areas uninhabitable to human beings. 
Now leading the android forces as one of The Four Horsemen, Pestilence inspires untold dread on her victims, making the general population live in a constant state of sickness. 
Collectors can choose between 2 head switch-outs. The first one features Pestilence half-masked with a sinister grin.  With this switch-out, you can feel her emanating a powerful aura that shows her true desire to spread diseases to exact revenge on her enemies. The second one features Pestilence with a cold-hearted and uncaring unmasked face.
Each statue is individually hand-painted and comes complete with XM's famous quality finish.
Character Background
"Then came the second, steeped in the rancid stench of man's darkest desires, it held itself with nymphlike haughtiness, built up by a life's worth of unwarranted perversion.
As the rider approached, an ominous, sickly green cloud followed, turning all that it covered into pustulent masses of wilted life, turning to ash before one's eyes when touched.
This one said it was Pestilence, its speech only a series of hisses somehow translated to
visions of fleshly abuse; a nauseating slideshow of our own sins from which spawned this
virulence." 
Read more at https://neo-apocalypse.com/
#XMStudios #NeoApocalypse #TheFourHorsemen #Pestilence

This Premium Collectibles statue features:
Two (2) head sculpts – 1 half-masked with a sinister grin, and 1 menacing unmasked face

Crafted in Polystone

Each painstakingly handcrafted statue is individually hand-painted with the highest possible quality finish
Artists:
Marco Plouffe (2D and 3D)

Victor Bassieux (Assistant 3D Artist)

XM Studios Design and Development Team
Manufactured by: 
XM Studios
Note: Prototype shown and pending final approval, final product may differ. Batteries will not be included for products with light up features due to customs.
Product and Box Dimensions
​
Product Size: 63*67*68cm
Est. Box Size: 25kg
Est. Product Weight: A-85*65*38cm   B-85*62*25cm
Est. Shipping Weight: 32kg
Deposit: 3600HKD
Free shipping for HK customers